Everest Mountain Flight

Mountain Flights are being operating every day early morning from 6:00 AM to 7:30 AM. Currently three major airline companies are operating this flight. Depending upon the booking 10 -12 flights are being operated daily. Mountain flights offer the luxurious option of a Himalayan experience. The one-hour mountain flight from Kathmandu takes you close to the highest peaks of the world lying in Nepal, including Mount Everest.During the flight, you will get to see Gosaithan (also called Shisha Pangma), Dorje Lhakpa, Phurbi Chyachu, Choba Bhamare, Gauri Shanker, Melungtse, Chugimago, Numbur, Karyolung, Cho-Oyu, Gyachungkang, Pumori, Nuptse and, of course, Everest. Mountain flights are offered by several airlines in the morning from the domestic airport in Kathmandu. Flights from Kathmandu reveal the Eastern Himalaya, while flights from Pokhara take you on a bird's eye view of the Western Himalaya.
Cost per person INR: 10,800/- (minimum 2 pax required)
Includes
Hotel-Ariport-Hotel transfer
Guaranteed windows seat during the flight
White Water Rafting at Trishuli

Trisuli River ( "Most popular River Rafting Trip") 
Can be organized  enroute to Pokhara. The Trishuli River consider as a high commercial whitewater sports destination of Nepal due to its easy accessible. It is an excellent river for those who are looking for a day short rafting trip and short multi day's trip without risk and challenge of big rapids with its beautiful scenery, peaceful environment and wonderful local cultural activities. In the monsoon season, water volume level rises up so the strength of the rapids increases and attracts rafters to challenge with its real adrenaline.
Starting point: Baireni/Charaudi/Fishing
Ending Point: Kurintar
River hours: 4 hours ( Can make short  1-2 hours as well)
River Difficulty Grade: 2-3+
Best Season: March / April / May/ June /October / November
Cost per person INR 2500/-  (minimum 2 pax required)
Inlcusions: Rafting guide along with safety euipments
Paragliding
Paragliding is a relatively new adventure sport in Nepal, and is the simplest, safest and least expensive way of discovering the joys of flying alone to experience the aerial views of the magnificent Himalayas. Sarangkot, at 1,592m above Lakeside in Pokhara Valley, is the jumping off point for paragliders. From here, one can witness stunning views of three of the world's highest peaks (above 8,000m), namely, Dhaulagiri, Annapurna and Manaslu. In addition, the tour offers scenic views of beautiful lakes, aerial view of the Pokhara city, monasteries, temples etc.
One doesn't need to have an experience to paraglide, as there will be qualified pilots to take you through the mesmerizing tour. The flying season in Nepal commences in October and runs through June.
Cost per person INR 7850/-
Includes
Private transfer
25-30 mins paragliding with the licesend holder pilot
Ultra Light Flight

Ultralight aircraft is an ideal way to view the panoramic Himalayan range right in front of your eye Flights takes off from the Pokhara Airport and are operated almost throughout the year except during the monsoon (June through August). Flights take place from sunrise to 11 am and from 3 pm to sunset every day, provided there is no rainfall. During the half an hour flight, one flies over Pokhara city, Phewa Lake, Sarangkot Hill and gets close to the Machhapuchhre Mountain. Another option is to explore the Annapurna range from 12,000 feet or higher in an hour.
Cost per person :
| | | | |
| --- | --- | --- | --- |
| Duration | INDIAN | FOREIGH | Flying Route |
| 15 mins | INR 12,000 | $110 | Pokhara City Tour |
| 30 mins | INR 17,000 | $190 | Close to Mount Fishtail |
| 1 hour | INR 30,000 | $310 | Mountain flight (Mount Fishtail and Annapurna Range) |
| 90 minutes | INR 39,000 | $440 | Mountain flifgt (Mount Fishtail, Annapurna Range and Kapuche Lake) |
Flight Video will be extra i.e INR 625 for INDIAN And $ 15 for Foreign Nationalities .
Includes:
Ultra flight with licensed holder pilot
Zip Flyer

Those looking for an adrenaline rush will find countless opportunities in the Himalayan nation of Nepal. Highground Adventures Nepal has introduced the most extreme zipline in the world. The officially named Zip-Flyer Nepal is the world's tallest, fastest and the longest zipline in the world located in Sarangkot- one of the most beautiful places in Nepal. It is not just another zipline; it is inclined at 56 degree, 1.8 km in length and 2000ft vertical drop. You zoom through the air at up to 160km/h with the Zip-Flyer making it the most extreme ride in the world. You can feel the wind in your hair as you gush down overlooking the majestic Himalayas and a mind-boggling 2000 feet vertical drop. After a minute of pure adrenaline, and travelling a distance of almost 2km, the ride begins to slow down as you approach the landing. The advanced, magnetic braking system then brings you to a complete stop.
During the ride, you'll get to experience the breath-taking views of Mount Fishtail, Annapurna Himalayan range and the raging Seti River.
Cost per person INR 4,700/-  
Includes:
Two way transfers
One time Zip flyer
Cable car ride to Sarangkot launch station
World Peace Stupa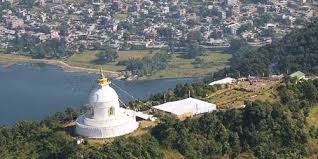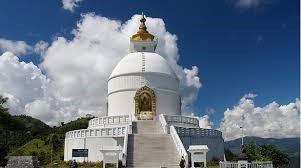 World Peace Pagoda is built by Nipponzan Fujii, after the II world war finished the pagoda was erected. During of the II world war many people lost their lives. At that time guru Nipponzan  Fujii became very sad, since that time he began to campaign against the violence activity. He has focuses on unity of human being in the world, according to Guru Fujii he wanted to propound the concept of cosmopolitan.
Similarly, the Peace Pagoda is a Buddhist stupa designed to provide a focus for people of all races and creeds within the world and to help unite them in their search for world peace. Actually in the world peace pagoda we can see four statues of Buddha,let people informed about the four incidents of Buddha,s life. Pokhara is itself a hanging paradise on the earth, still more the pagoda has added more charm and beauty in Pokhara, from World Peace Pagoda perfect view of mountain of Annapurna range.
A Buddhist monk from Japan and founder of the Nipponzan-Myohoji Buddhist Order. Fujii was greatly inspired by his meeting with Mahatma Gandhi in 1931 and decided to devote his life to promoting non-violence herewith he got very vital Consciousness through II world war too. And in 1947, he began to construct Peace Pagodas as shrines to World peace.By 2000, 80 Peace Pagodas had been built around the world in Europe, Asia, and the United States.
Nepal has two  World Peace Stupa at Lumbini and Pokhara.
Cost per person  (minimum 2 pax required)
| | | | | |
| --- | --- | --- | --- | --- |
| Pax | 2-3 pax | 4 pax | 5-13 pax | 14-20 pax |
| Rate | INR 875 | INR 570 | INR 525 | INR 240 |

Includes:
Two way transfers
Bungee Jumping at Pokhara
The ultimate thrill of a Bungee jump can now be experienced in Nepal at perhaps the best site in the world.  The jump site offers a spellbinding view of the Himalayas, the hills and the rivers that will take your breath away. The 80m tower Bungge tower is cantilevered over a river adjacent to a 50m cliff in Hemja. It offers a free fall for 5 seconds in a blitz of pure fear and adrenaline.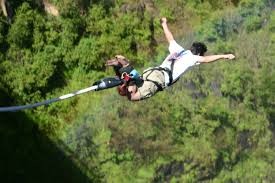 | | |
| --- | --- |
| Type : | Price : |
| Standarad Bungee Jump | INR 2820 net per person |
| Tandem Bungee Jump | INR 5320  net per couple |
Includes:
All taxes and fees are
Pick up from our lakeside office and transfer to our site
Bungee briefing and one Bungee jump
HighGround Dream it! Dare it! Do it! T-shirt
Transfer to lake side
The Cliff Kushma Bungee
Bungee Jumping in Nepal is one of the most popular adventurous activities. The world's second-highest, most exciting and thrilling Bungee Jumping lies in the Kushma Parvat district of Nepal. Along with the astounding panoramic views in the Kaligandaki gorge amidst the Annapurna and Dhaulagiri mountains, lies the Kushma's suspension bridge from where the Bungee Jumping is into operation. The bungee Jumping spot resides in the 520 m. long suspension bridge which connects Kushma of Parvat to the Balewa of Baglung. The total height of Bungee Jumping is 228 m., making it the world's second-highest natural Bungee jumping paradise. It is the tallest bungee Jumping of Nepal.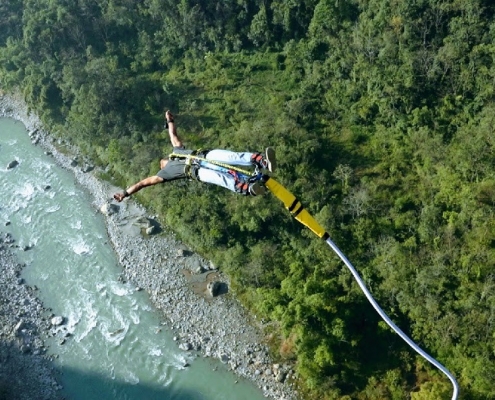 Kushma Bungee Jump is popular as Asia's highest natural bungee swing.
Cost per person
| | | | | | |
| --- | --- | --- | --- | --- | --- |
| Pax | 1 pax | 2-3 pax | 4 pax | 5-13 pax | 14-20 pax |
| Rate | INR 8800 | INR 6600 | INR 5800 | INR 5750 | INR 5800 |

Includes
Bungee Jump
Safety gears
Cost Excludes
Accommodation, Beverages, Food & Supplies, Photos, transportation.
Upper Seti River Rafting
Only 30 minutes from Pokhara's Lakeside, this short and sweet rafting adventure offers 1 ½ hours of non-stop adrenaline filled class III+/IV rapids. With fantastic Annapurna mountain views, crystal clear Himalayan whitewater and a beautiful gorge decorated with a suspension bridge and prayer flags – rafting the Upper Seti River is the ultimate half day trip in Nepal.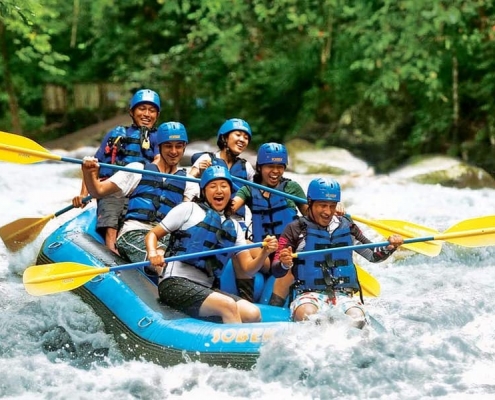 Mother Nature packs more rapids into 90 minutes on the Upper Seti than some other rivers provide in 2 to 3 days, making this a crew favorite right here in our own back yard.
Rate: INR 2500 net per person
Inclusions:
Two way transfers via Hemja-Bamboo Bridge-Yamdi
30 mins preparation/briefting time before rafting
90 minutes rafting on Seti River
Liscensed holder Rafting Guide
Lifejacket, paddles, helmet
River permits
Hot Air Balloon
The flight includes a swift and sound flight to the best height from where you can feel the cold breeze with the mesmerizing views of the mountain ranges of Fishtail, Annapurna, and Dhaulagiri on the northern side with the sunrise view on the eastern side flaming its light to beautiful Pokhara City and the high hills at the southern and western side where the western side is again added with the beautiful sunset view in the evening flight.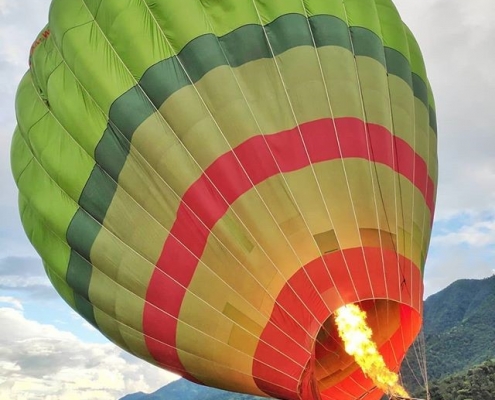 40 Minutes in the air will blow your mind with beauty of Pokhara and the majestic Mountains around .
| | |
| --- | --- |
| Price for SAARC  Countries | Price for  Foreigner |
| $100 |     $130 |
Includes:
All taxes and fees
Pick up and drop service
Mardi Himal Heli Tour
Mardi Himal helicopter tour is the newly launched helicopter tour in Nepal. This helicopter tour to Mardi operates on a daily basis with both private groups and shared groups. The Mardi Himal base camp helicopter tour is the best option for the panoramic views of mountains like the Dhaulagiri and Annapurna Ranges. This helicopter tour lets you to an extreme height of 4,500 meters from sea level. It is the base camp for Mardi Himal (5,587 meters), one of the very popular destinations in the Annapurna Region of Nepal, where travelers visit  from all around the world. This tour operates from Pokhara and takes around 12 to 15 minutes to reach Mardi base camp from Pokhara airport.It offers the cinematic and most amazing horizontal view of high mountains, gazing sun, floating clouds, and the scenic tropical landscape. Some of the major mountains viewed through this Mardi Heli tour are Mardi Himal (5,587 meters), Machhapuchhre (6,993 meters), Dhaulagiri (8,167 meters), Annapurna Ranges, Gangapurna, Singu Chuli, Hiunchuli, Khangsar Kang, Tare Kang Glacier Dome, and so on. Offering a close-eye view of the entire Himalayan magnificence, this Mardi Helicopter Tour stands out to be the best choice for those who want to explore the natural beauty in a shorter period of time. It is also applicable for those who are unable to break through the up and-downhill march of the entire route.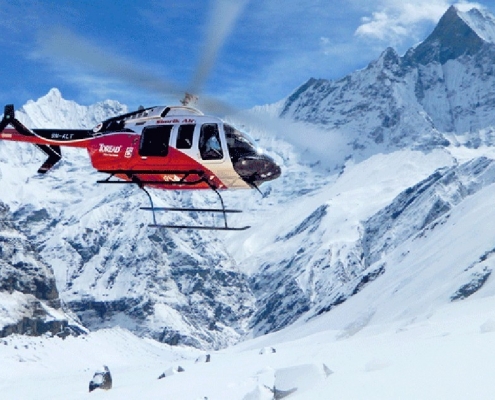 This Mardi Himal helicopter landing flight starts from lake city, Pokhara with the flight for about 12 to 15 minutes. On arrival at the Mardi base camp, the helicopter will leave you for about 30 minutes to observe the surroundings and capture photos and videos and make millions of memories in this short period of time.
Starting point: Pokhara airport
Ending point: Pokhara airport
Maximum altitude: 4,500 meters (Mardi base camp)
Minimum altitude: 1,400 meters (Pokhara)
Type of helicopter tour: Private tour or group joining the tour
Number of persons per flight: 5 passenger
Includes
Airport and hotel transfer (before and after Mardi helicopter ride)
Helicopter Trip to Mardi Base Camp from Pokhara and return with proper seating arrangements for a maximum of 5 people
30 minutes pause at Mardi Base Camp for photos and videos
Applicable permits' arrangement service
Fuel Surcharges
Set of oxygen system (consisting 4 to 5 liters of mountaineering oxygen cylinder fitted with the regulator and high-tech mask)
Medical Kit (which is carried by your team)
All local and governmental taxes
Rate: $ 260  net per person
About Us
Fishtail Tours & Travels Pvt. Ltd. is your one-stop travel service provider, bringing the world to you at your convenience.
Contact Info
Hot line no.  : +977 – 9851145170 / 9851033301
Email : info@fishtail.org
Location : No 344/9, Fishtail Tourism House, Dashrath Chand Marg, Baluwatar, Kathmandu, Nepal